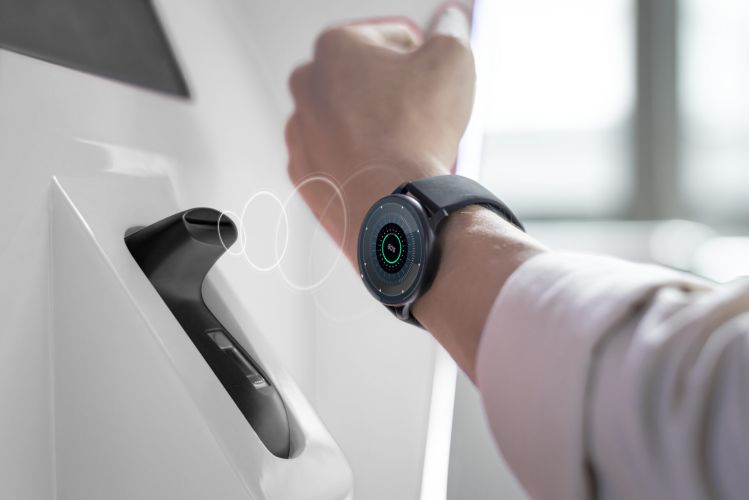 The Latest Wearable Technology Trends: Examples, Overview.
September 14, 2022
Cellular communication, Wi-Fi, and Bluetooth have opened the door to the development of mobile devices and, in particular, wearable technology. Unlike phones and tablets, wearable mobile devices are attached to the body or embedded in clothing. Some medical wearable devices are even implanted into the body.
While some wearable devices are designed for functionality rather than aesthetics, new trends in wearable technology combine fashion and functionality through connected clothing and jewelry.
Modor Intelligence predicts the wearable technology market will reach $74 billion by 2026, up $46 billion from 2020. Industries participating in the blossoming market and generating profits include fitness, healthcare, manufacturing, entertainment, and wellness.
Smart devices and gadgets are booming, and tech giants and startups are joining this innovation landscape. Before we look at some of the latest trends in wearable technology available today or in development, let's start by laying the groundwork for everything related to wearable devices and the technology that powers these small but powerful devices.
What is Wearable Technology?
First of all, Wearable Technology can be called an umbrella term because it encompasses a wide range of smart devices, ranging from smart clothing, including fashion technology, wearables, technology things, streetwear technology, and skin or fashion electronics. The devices that make up Wearable Technology are worn near and/or on the surface of the skin and can detect, monitor, analyze and transmit a wide range of data and information regarding patient body signals (such as vital signs), which in some cases allows immediate action and/or environmental data, which in other cases also provides immediate biofeedback to the patient/carrier.
Wearable devices also make up the so-called Internet of Things (IoT), a category of physical objects or devices that have specific "smart" capabilities: from sensors to processors that can run software applications and other technologies, IoT, and therefore wearable devices, can connect, transmit and exchange data with other devices via the Internet or different types of communication networks, with the manufacturer and without the need for human intervention.
Along with belonging to the Internet of Things and the many benefits this category offers, wearable technology includes not only the hardware of the devices but also the software that allows them to perform all of these functions. As this field continues to expand, various applications continue to be developed for this specific type of device. Beyond these patient-related and commercial applications, Wearables are slowly becoming more widespread and increasing the number of industries in which they are used.
Smartwatch
The trendy and versatile smartwatch tops the list of emerging wearable technology trends. Available on Apple and Android platforms, they offer a host of functionality, including:
Notifications, which duplicate smartphone notification settings such as email and text alerts.
Scheduling and organizational tools, such as alarm clocks or appointment scheduling tools.
Apps such as GPS maps or fitness trackers. In addition to accessing maps and GPS directions, modern smartphones can also locate your phone and keys if they are compatible and connected to the same identifiers. Imagine you're running late and can't find your car keys or phone. A small device on your wrist can quickly locate all your devices in seconds!
Music, audiobooks, and streaming files synced with (or without) your smartphone or tablet.
Emergency calls and fall detection. Thanks to fall sensors, the smartwatch can automatically detect and alert the user and their contacts in the event of a fall.
General-purpose smartwatches offer a wide range of functionality, while other smartwatches work for specific use cases such as fitness trackers, biometric monitors, or physical activity such as hiking or diving.
In health care, devices such as the Apple Watch can monitor blood oxygen levels and take an electrocardiogram (ECG), which measures the user's heart rate and rhythm in real-time. This data can alert the user to a possible heart attack before it happens, and users can share the information with a health care provider for long-term monitoring.
Smart jewelry
Smart jewelry is also a trend in wearable technology and is comfortable to wear. Essentially, smart jewelry is a category of wearable devices that look like they can be worn outside the gym, don't scream technology right in your face, and are more suitable for casual wear or more elegant occasions.
These wearable devices achieve the same results as a regular smartwatch or wristband but look like high-end jewelry. They can adapt to every accessory you can imagine, from rings and bracelets to earrings and pendants, and may look like regular jewelry, but inside they are technological devices that not only look good on the outside but also help the user feel good inside and achieve their health goals.
In addition to tracking different types of biometrics, by adding smart technology to a ring, bracelet, or necklace, the user can track their activity or improve their well-being with vibration therapy or meditation reminders.
One of the most popular jewelry companies, Oura, has developed a smart ring that provides the wearer with 12 health indicators based on data collected throughout the day and night. This data helps users maintain balance in their lives and achieve optimal mental and physical health.
Bellabeat's smart jewelry for women can be worn as bracelets or necklaces or attached to clothing. Their product line includes wearable devices to monitor hydration and well-being that can even track the menstrual cycle.
OMRON Healthcare's HeartGuide wearable device includes an inflatable cuff on the inside of the strap, allowing it to measure blood pressure with clinical accuracy.
Another example of smart jewelry is designed to monitor stress levels and sleep patterns or even record voice notes. Like smart watches, smart jewelry depends on sensors that collect data to transmit to an app for processing, reporting, and storage.
Smart clothes
The fitness industry is leading the way in the development of smart clothing. Whether a cyclist, runners, or gym enthusiasts, athletes enjoy the convenience of technology in their workout gear. From yoga pants to T-shirts to sports bras, smart clothing for athletes tracks their biometrics, muscle contractions, and UV exposure.
In addition to the fitness world, health and wellness also see a place for smart clothing in their industries. Siren has created a plug-in sock to track foot temperature, indicating inflammation or injury. For patients with diabetes or neuropathy, early detection helps reduce the progression of foot disease to a more serious medical event.
Spinali Design, based in France, has created a line of swimwear that warns beachgoers when it's time to apply more sunscreen.
Keeping in touch with ultraviolet rays, Spinali Designs is currently developing "smart" gloves that use the sun's rays combined with titanium dioxide to kill bacteria on the hands. These disinfecting gloves allegedly destroy various contaminants and viruses, including Ebola and COVID-19.
The technology behind smart clothing is mesh wires woven directly into the fabric, embedded hardware, and Bluetooth, which connects the collected data to a smartphone app. Along with the fact that the wires are woven directly into the fabric, another key advantage of smart clothes is the fact that they can easily be thrown into the washing machine. Most smart clothing items available on the market today require only a small box or clip (usually magnetic) that contains all the data and essentially makes the wearable device work. Once this device is removed, you can easily stick your stack of clothes in the washing machine and wash them with the rest of your clothes. Despite this, many smart clothing items are still not water-friendly, so you should be careful and research which ones are water friendly.
There is an ongoing debate about the role smart clothing can play in providing more reliable biometric data, mainly because its sensors are closer to the areas that need to be monitored. For example, smart T-shirts or tops use the same reliable ECG heart-rate monitoring technology currently used in chest straps, such as the Polar H10 or Garmin Run. In terms of lower-body monitoring, wearing smart clothing equipped with motion sensors can help predict more acute muscle activity, which can also allow muscle-related conditions to be studied.
In addition, a major advantage of smart clothing is that it tracks more data. Because the clothing has multiple sensors throughout the user's body, it makes sense that the number of areas tracked increases, which means more recorded biometric data, which allows the user to gain a deeper understanding of their own body, and also contributes to general scientific research.
Finally, for some users, convenience is a major deterrent to wearing these devices. It all comes down to user preference: whether you like wristbands or smartwatches more than smart wearables depends on your activity, the biometrics you would like to keep track of, or simply whether you like one type of wearable device more than another. Although some users prefer smart clothing to other types of wearable devices, it's important to remember that many smart clothing items also offer a compression fit and sometimes may even have a bulky fit, mainly because they must support the "smart" part of the product, which is the wires that make the wearable device work.
Smart hats
Glasses, head-mounted displays, and Bluetooth headsets create maximum hand freedom, improving personal and professional efficiency. Google Glass glasses were in vogue in 2014, but the product ultimately failed to find the right application in the marketplace. Although Google's smart glasses didn't last long, they inspired other startups to enter the wearable glasses market.
Vuzix is leading the augmented reality (AR) technology industry with its line of smart glasses. Focusing on manufacturing, field services, warehousing, and telemedicine, Vuzix uses AR to train workers, improve efficiency and create a platform for real-time collaboration.
The head-mounted displays use the optical head-mounted display (OHMD), which projects reflections onto the display, providing instructions or other information that the user can see through the display. Users continue to see unobstructed reality but get the added benefit of additional contextual information based on their current view.
Wearable virtual reality devices are often used in gaming, military, and aviation training, as well as in surgical procedures. These devices create a virtual experience that the user can interact with in a risk-free environment.
Flip through display technology, and you'll find cameras mounted on the head, providing a bird's-eye view of what's going on. Whether used in sports, to record personal events and activities, or to assist law enforcement, wearable cameras are available as headgear or attached to the user's clothing.
Smart hats use the same Bluetooth connectivity as other smart devices and include virtual and augmented reality, OHMD technology, and artificial intelligence (AI). Companies using smart hats as a learning and collaboration tool can evaluate data and use AI to improve processes and train staff through the recorded and augmented experiences of others.
Final Thoughts
New products will emerge in the professional and consumer markets as current technology leaders and startups innovate, research, and create.
Wearable technology already has a significant place in fitness and health care, from devices to improve athletic performance to detecting early signs of heart disease. Wellness wearable devices help us reduce stress, sleep better, and care for our mental and physical health. And for fashion enthusiasts, smart jewelry and connected clothing markets are gaining momentum.
When developing wearable devices, it's essential to consider the entire wearable device ecosystem, including the device itself, connecting with smartphones or other systems, connecting users, collecting data, analyzing, and reporting.