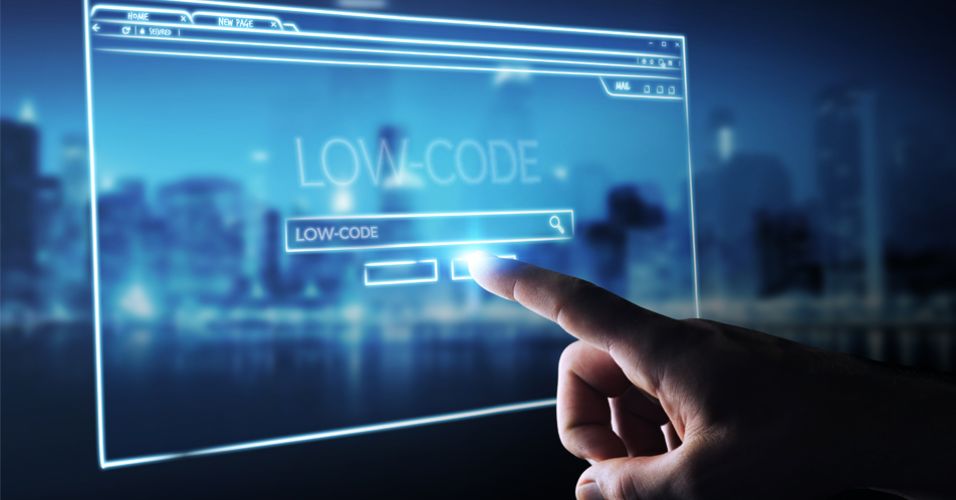 Low-Code Platforms in Software Development
January 17, 2022
Low-code accelerates software delivery by optimizing the overall development process. You can use low-code to automate every phase of the application lifecycle to speed up the deployment of diverse solutions.
Thanks to the new low-code methodology, we're bringing ideas to life at a much faster rate. There's even more. Teams carry out the development, most of whom have no prior coding experience.
Nowadays, software needs rapidly increase, and low-code development is a much-needed departure from the traditional development approach. This approach makes a difference in creating high-quality applications and provides enterprises with an efficient maintenance and deployment model.
One of the tools used for application services and solutions is low-code development, also known as no-code development. The method employs a drag-and-drop interface and logic-driven graphics to create applications intuitively.
It is a critical component of the enterprise technology stack in today's competitive world, and it is gaining significant traction in business software development. The core capability of building apps faster enables businesses to simplify processes, meet market demands, and achieve organizational goals.
Low-Code vs. Traditional Development
As a result, low-code technology is aimed to make the software development lifecycle more agile, intuitive, scalable, and composable. But how does technology automate workflows and simplify processes to such an extent?
Low-code development platforms include tools and features for managing the entire application lifecycle.
Let's look at some of the exciting features of low-code platforms.
Out-of-the-box Functionality: It aims to eliminate the need to create core modules for applications from the ground up. Some platforms, for example, include modules for data management, AI-based solutions, and customer engagement apps.
Drag and Drop Interface: low-code platforms enable both professional and amateur developers to benefit from drag and drop features when creating applications.
Business Process Automation enables developers to integrate software apps with existing business processes via APIs, allowing the application to access and communicate with data from existing systems.
Application Lifecycle Management – low-code simplifies various stages of software development, such as testing and maintenance.
It also enables businesses to access information about created apps and revert to the previous versions if needed for better management.
Visual Modeling Software: low-code platforms, powered by visual modeling strengths, have prebuilt functions to represent any information in a way that is understandable by everyone, from business users to professional coders.
Connectivity: These platforms have strong links to backend systems such as ERPs and CRMs. It enables business users to import data into real-time dashboards and reports.
How can low-code Apps Help Today's Business?
Low-code platforms enable developers to start and create functional prototypes without writing any code quickly. This approach to development can significantly reduce the time required for development, testing, and launch.
Cost-Efficiency
Because little or no coding knowledge is required, low-code helps close the IT gap that many businesses face without requiring them to add technical resources to their IT team.
It enables enterprises to build business processes and workflows more easily while customizing them to their specific requirement.
Increased Business Performance
By utilizing low-code platforms, developers can incorporate new features and unique functionalities into their software. They are not required to spend their valuable time on the underlying services and functionalities. With no or limited development experience, they can align the comprehensive user interface with business goals, build data models, business rules, and definitions using a straightforward development approach. The reliance on hiring programming resources can be greatly reduced. The platform also reduced the reliance on development teams to update frameworks, infrastructure, and other underlying technology.
Improved Scalability
The low approach can assist businesses in developing long-term solutions.
The applications can adapt to changing business needs using cloud-native architecture, seamlessly catering to the growing workloads. These platforms help streamline processes through automation, but they also help improve customer engagement by providing great conversational and immersive experiences.
Bringing Innovation
Low-code platforms are outfitted with cutting-edge design thinking, allowing developers to test an idea and release an MVP to the market. Businesses can gather customer feedback and gain insights into market performance in this manner without putting in a lot of time or effort. As a result, businesses can bring ideas to life much faster and innovate to a greater extent.
Does Low-Code Have Potential?
The low-code development approach promises to simplify the software development process by allowing business technologists to iterate and prototype quickly. Today, top tech titans such as Google, Microsoft, and Amazon are interested in investing in these platforms. Low-code is more than just a development practice for accelerating app deployment. Even traditional IT developers harness the power of low-code to create apps faster and collaborate with business users.
While low-code has many advantages, it cannot completely replace traditional software development methods because custom app development gives the organization complete control over the technology stack, which benefits the organization in various ways.
Low-code is the best way to start and run digital transformation efforts better and faster using a modularity approach that can be reused or recycled more quickly.
Bragona Technologies can help you turn your idea into a high-performing business app with simple maintenance and reduced risks.