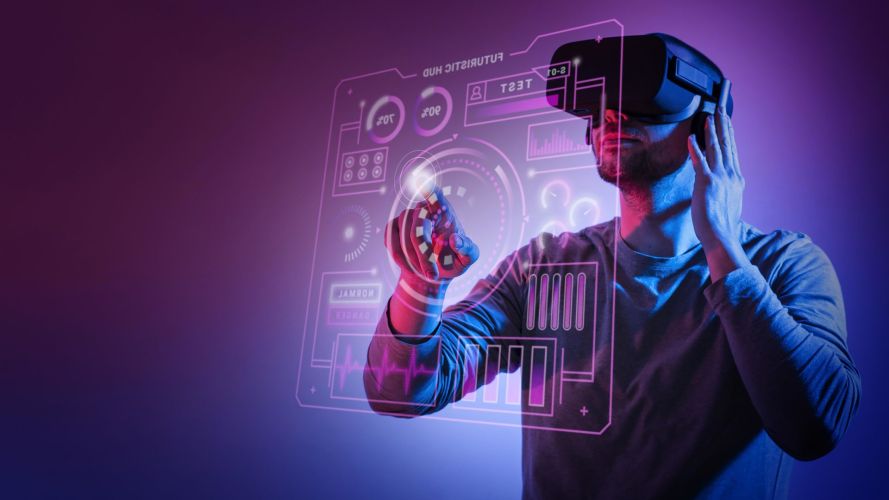 Augmented Reality and Metaverse Trends
February 22, 2022
Augmented reality (AR), virtual reality (VR), and mixed reality (MR) has evolved rapidly over the past few years, offering new technologies, devices, and new use cases for users and enterprises.
Eventually, these technologies came together under the extended reality (XR) umbrella, representing the full range of digital solutions for headsets, smartphones, and wearable devices. The growth of technology was relatively stable until the recent events of 2020-2021, which catalyzed change.
Things accelerated when Facebook announced its rebranding to Meta. With the name change, Meta introduced new strategic goals:
Conquer augmented reality.
Make it accessible to everyone.
Have ten billion users on its platforms over the next ten years.
Metaverse, Meta's digital world, should be the primary vector of development, bringing together everything consumers and businesses need.
The COVID pandemic and the need to work remotely have increased XR technologies' already growing adoption rate. Businesses have begun to re-engineer processes so that remote employees can work effectively in the new environment, and XR solutions have played a considerable role in this.
Let's dive into what's happening in the market and with XR technologies and what the future of industrial XR use cases around the world will look like.
Where Do XR and Metaverse Head?
With the move from Facebook to Meta, XR and virtual worlds-based technologies have significantly boosted. Meta's focus has been on bringing Metaverse to life and networking, community building, and business development in virtual worlds for all comers.
Since Meta has set the direction of development in this innovative industry, we can assume that the company will soon release games and simulations explicitly designed for Metaverse. These applications will provide ample opportunities for both ordinary users and businesses. Other casual games will face new competition from Meta and offer new ways to play to compete with the entertainment Metaverse offers.
VR hardware will be optimized, refined, and improved to maximize user engagement with Metaverse in a short time. As the latest news already proves, other manufacturers won't fall behind either.
Meta will allow its users to enjoy the visual and tactile benefits of Metaverse using the technology of the acquired companies.
The Development of XR Technology in the Markets
The adoption of augmented reality has accelerated significantly due to the COVID-19 pandemic, Meta's announcement about Metaverse, and smaller market movements. Let's look at what augmented reality solutions look like among the major companies:
Meta reinvents communication tools: Facebook Reality Labs teams work on a unified platform for Meta's VR services. Horizon Home aims to create a social place where you can interact in VR with other users who join you from their homes, allowing Meta communication tools like Facebook Messenger to work seamlessly in the VR space.
Unity Industrial Assets: Unity provides 3D models and assets for recreating 3D environments in VR and AR for manufacturing plants and production sites. Hyper-realistic assets allow users to create interiors and visualize spaces without significant investment and at the expense of prototyping time.
Metaverse with haptics: Meta is also working on prototype haptic gloves, which should serve as a means of human-computer interaction (HCI) and provide feedback through sensitive touch when interacting in real and virtual worlds.
Mixed Reality with Microsoft Mesh: Microsoft Mesh provides tools to develop environments and worlds where users communicate through gestures, emotions, eye contact, and facial expressions. Mesh aims to support various devices, such as VR headsets, smartphones, PCs, and HoloLens 2.
Electromyography: XR Today reports that electromyography (EMG) has been around for several years and is used primarily in medical settings to scan abnormal movements. Companies are now developing solutions that allow EMG to be used as a means of human-computer interaction, providing digital input directly from brain impulses. For AR, this opens up new possibilities for controlling devices with a single thought. However, this still requires more extensive research.
XR Application & Benefits
Augmented reality is a rapidly evolving and highly customizable set of technologies that will find a place in almost every industrial segment. However, some industries that have had to transform their business processes in times of social distancing have sparked a boom in developing dedicated remote working solutions.
Manufacturing is one industry where XR finds its application in digital twins that replicate industrial equipment for remote maintenance. XR brings together technicians and field engineers from different parts of the world to work simultaneously on the same problem, with a high-resolution digital model of the equipment or product in front of them. Moreover, with the development of automated visual inspection solutions, maintenance, and quality assurance have become semi-automated, as field engineers receive alerts and notifications when they scan equipment or products with their cameras.
Healthcare solutions also empower physicians and patients. For example, therapists get a whole new set of assistive devices that accelerate mental health, combat phobias, and help make patient care faster and more convenient. By combining haptic feedback technology and visual object imagery, our SoftServe development team develops use cases to combat fears by showing patients secure holograms of their phobias and allowing them to safely interact with the holograms until the fear subsides and disappears.
Training & EdTech acquires a range of e-learning solutions, connecting teachers, trainers, and experts with audiences in one virtual or XR learning space. Real-life interactions in virtual rooms, combined with digital twins of objects or equipment, help describe how things work faster and make it easier to visualize everything, no matter where one is.
Retail gets many opportunities to engage customers and provide a better shopping experience. From virtual fitting rooms to try on haircuts or clothes, stores can embrace and enhance the customer journey with new tools available from home and the store.
Challenges and opportunities for augmented reality
Because the technology is still in its widespread adoption phase, it goes through regulatory transformation and integration challenges.
Construction, and asset management use XR solutions to visualize highly realistic 3D replicas of properties that can be accessed from anywhere in the world. Immersive floor plans, interior designs, or digital twins of properties can be easily accessed from a smartphone as well as any virtual or augmented reality headset.
Today, XR applications are being created for a new generation of headsets, smartphones, and wearable devices that are designed for comfortable use. The hardware itself is already advanced and efficient enough to process and display high-resolution XR images, and the performance and battery capacity allow for hours of use.
Integrating XR solutions used to be another challenge that needed to be addressed across industries. Still, device manufacturers, software companies, and third parties have already provided toolkits, APIs, and SDKs to customize the XR experience and integrate it into the existing infrastructure.
The cost of the technology is steadily decreasing, allowing many companies to implement initial use cases for XR technology or at least create a basic platform for integrating XR solutions into their infrastructure.
Every day we get one step closer to solving these problems so that we will see many more significant applications of all XR technologies in the coming years.
In the next few years, the rate of technology adoption will only increase, leading to many market players innovating their business and production processes with XR solutions. Bragona Technologies has already come a long way in developing XR applications and devices and building practical business processes for remote work based on XR. Companies are already creating solutions that bring remote workers together, simplify complex machine learning, develop lasting customer experiences in establishments, and more.