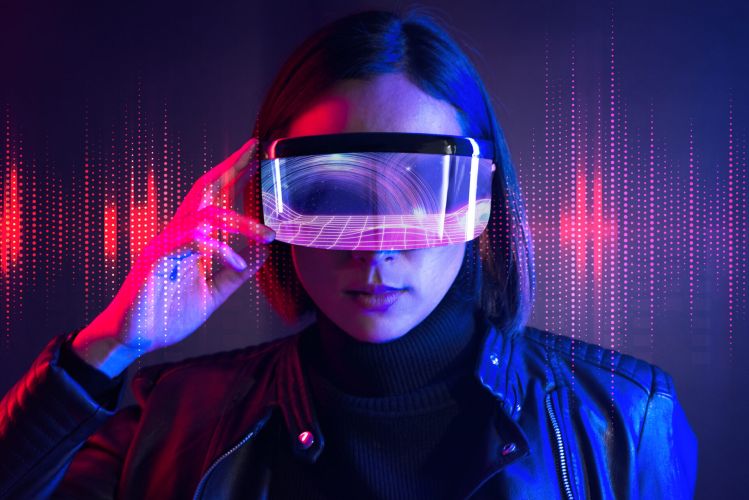 Is Your Business Ready for Augmented Reality Advertising
July 14, 2022
Augmented reality (AR) offers commercial value beyond the gimmicks and gaming applications that initially popularized it. This fact is gaining traction in various industries, including B2B and B2C commerce, where trials with AR mobile app development for marketing and advertising are gaining traction.
IDC predicts 2019 global AR/VR spending will reach $160 billion by 2023 at a five-year CAGR of more than 78%. When a nascent technology takes off, it's usually not immediately that commercial and industrial beneficiaries start planning for its adoption, and AR is no exception.
It's worth considering whether your business is ready to use AR as a way to drive interest in your brand, services, or products.
However, the advantages of employing augmented reality advertising differ per business.
However, as the figure above shows, sales growth is increasingly driving organizations' use of this technology.
However, there is a difference between grabbing the technology just because it's there and aligning goals with the known benefits of the technology. In the case of augmented reality, this makes it reasonable to achieve any of the following purposes.
Increase Brand Awareness
Do you want to create a cult following for your brand, product, or product line? You should consider making the AR experience as accessible as possible. This can be tricky if campaigns depend on consumers downloading the app.
Instead, you can bring campaigns into a public environment using AR screens or mirrors, as Pepsi did in 2014 with its Monster Mirror campaign. The beverage conglomerate installed an AR mirror with facial recognition technology in the restroom of a London movie theater. Cinema-goers were shocked – and had stories they shared on social media – when they looked in the mirror and saw a zombie, a scary clown, or a werewolf looking at them.
Suppose your company's budget and resources are sufficient to expand its campaigns beyond the restrictions. In that case, you may also want to connect the AR experience with digital media channels like YouTube to immerse consumers in your brand experience as much as possible.
Probably your company doesn't yet know how to leverage IoT capabilities like Pepsi in campaigns like Unbelievable Bus Shelter, using live streaming video from the street and 3D animation. In this case, you'll probably have to settle for AR in your branded mobile app.
Facilitating the Customer Journey
Зyour goal is to make it easier for customers to take action after interacting with AR in marketing campaigns. In that case, you need to consider integrating AR interactions with your online and traditional commerce channels. IKEA has been doing this since at least 2013, helping its customers immerse themselves in the brand's extensive catalog.
The latest installment of IKEA's AR experiments, IKEA Place, is an app that helps users visualize their chosen furniture or accessories in a natural home environment. The app uses markerless AR to scan the surrounding environment and realistically place 3D models of IKEA products within it.
In-Store Augmented Reality Advertising
Perhaps your goals focus on local advertising and increasing foot traffic at traditional offline retail outlets. In that case, you may want to develop a strategy that combines location-based AR to help people find your stores and market-based solutions to bring the customer experience to life when they come into the store.
For example, Lowes is probably best known for its essential home goods centers. Now, this retailer is also becoming known as an augmented reality innovator.
Lowes has introduced a dual home improvement app, allowing shoppers to style and design their homes or rooms with virtual versions of products.
This is an excellent example of how advertising and information can be strategically combined using AR to engage shoppers in-store and at home.
Examples of augmented reality advertising
Along with the Pepsi actions mentioned above, there are several other examples of augmented reality in advertising. For instance, YouVisit uses AR to help people explore everything from new cities to luxury hotels. They recently introduced campus tours that allow prospective students to visit college campuses without the associated cost of travel. Students can also explore campus neighborhoods, which is often one of the deciding factors in choosing a college.
In addition, many car companies are already using augmented reality advertising. An excellent example of mobile advertising with augmented reality is Volvo. To promote their new S60 model, they teamed up with YouTube to give users an idea of what driving a car is like. Users had to go to YouTube, scan Volvo's video, and then use their smartphones to "drive" the car whenever they wanted. The use of the augmented reality ad campaign resulted in a 239% increase in traffic to Volvo's website.
Ford also used AR advertising, in this case, to appeal to a younger demographic. They teamed up with Snapchat to create an AR filter associated with their EcoSport mini SUV, which featured a realistic 3D model of the vehicle. Users could place and scale the car anywhere in their environment and get a glimpse of the vehicle's interior and exterior.
The challenges of augmented reality in marketing
Once you know your goals for AR-based advertising, you need to make sure your team is aware of the challenges you may face and ready to overcome them. Three main challenges are worth mentioning and should be considered when preparing for AR marketing.
User Acceptance
Given that augmented reality software superimposes digital data on a person's view of the natural world, it must come with some hardware with an element of visual functionality. This may not be the case in the future if projected holograms become a reality. But for now, marketers must either invest in hardware that allows AR campaigns in public spaces or create apps that people can access on their mobile devices.
However, as most forms of mobile marketing have shown, the current reliance on apps can be an obstacle because you have to convince people to download them. Therefore, before using AR to market your products or services, you must develop a strategy to promote your AR concept. You will also need to sell your augmented reality app to your target audience.
Platform Readiness
Making AR accessible and usable on smartphones is still a work in progress. Since traditional AR requires a headset, the technology must be successfully scaled to work on mobile devices. In addition, the user must be satisfied with the AR apps' interaction to keep returning to them.
Of course, the graphical capabilities of mobile devices and other built-in components are constantly improving. At this point, however, it's still wise to consider whether it's time for your business to start using augmented reality app advertising. You may decide that it's too early and, therefore, too many risks.
Development Complexity
Does your company have its development team, and if so, does it include augmented reality developers? AR apps aren't the easiest to develop, but the process has become easier with the launch of Apple's ARKit and Google's ARCore SDK.
However, suppose you want to create apps compatible with older iOS and Android versions. In that case, you'll still need people with the appropriate coding skills to create augmented reality programs. If you don't have the internal resources, you'll have to enlist the help of a development company that specializes or at least has sufficient experience in AR software development.
Is Your Company Ready for AR?
Setting clear goals for using augmented reality in marketing and advertising, understanding the issues, and having a strategy to minimize their impact will help you be ready.
Your customers are probably willing to interact with your brand through AR, and while device capabilities may remain a limiting factor, this is a temporary problem. 
Contact us to learn more about AR and the best way to apply it and benefit.